VMware Configuration before Installing Linux7 (rhel7) | Linux Tutorial Part-01
Install Mikrotik RouterOS v5.20 in VMware Workstation | Mikrotik Tutorial Part: 01
Install Red Hat Enterprise Linux rhel7 | Linux Tutorial Part: 02
VMware Workstation Cannot Connect to the Virtual Machine
Redhat/rhel 6.5 (64bit) Linux Installation in VM from USB Drive with Creating Partition
RHEL 6.5 Network Configuration in Linux/CentOS 6.5
Basic vim commands in RHEL/CentOS Linux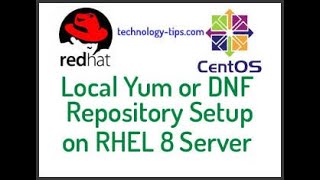 Local DNF Repository on RHEL 8 Server using ISO
VMware Configuration before Installing Linux7 (rhel7) | Linux Tutorial Part-01

This tutorial will heip to install Red Hat Enterprise Linux 7 in VMware software. This is the first part. This part is the per-installtion configuration of vmware.

Install Mikrotik RouterOS v5.20 in VMware Workstation | Mikrotik Tutorial Part: 01

Download Mikrotik Router latest version v6.3 from Mikrotik main website. The link is - http://www.mikrotik.com/download

Install Red Hat Enterprise Linux rhel7 | Linux Tutorial Part: 02

This is the installation tutorial of Red Hat Enterprise Linux 7. Main point of Installation:

VMware Workstation Cannot Connect to the Virtual Machine

Visit Website for more Linux Tutorials - Website Name and URL: Video Post URL: Coming !!!

Redhat/rhel 6.5 (64bit) Linux Installation in VM from USB Drive with Creating Partition

Visit Website for more Linux Tutorials:

RHEL 6.5 Network Configuration in Linux/CentOS 6.5

Network Configuration rhel 6 5 linux or CentOS 6.5

Basic vim commands in RHEL/CentOS Linux

This tutorial is the basic tasks of vim commands in Linux System. Everybody knows that different kinds of editor is available for opening text files.

Local DNF Repository on RHEL 8 Server using ISO

Red Hat released their best optimized operating system "RHEL 8". They have changed many features and increased performances than the previous version of RHEL 7. So If you install RHEL 8 Server in your system, then you need to setup local yum or dnf repository.